Submitted By: Daniel Tam
OK – so here we are with HPI's Pro-D Chassis. I must admit that personally, the shape of the thing isn't all the appealing to me – I actually find it kinda ugly but I should first note, that all (or most) of the shots were taken at the end of each step in the manual.
I do like the layout though, it's different – it's easy enough to work on, and took about 3½ hours for me to build from opening the box, to getting the car RTR, including taking all these following pictures. It comes with a few nice bits here and there and i love the fact that bearings are all supplied!!  Would have been nice to have some rubber shielded ones or something with all the dust and the cost of the kit, but i wont get into any of that right now – think i'll add bits as we go, so let's get started then, shall we?
Here is the box… kinda smaller than i expected, but hey, what's to expect from a kit? The box really only needs to be long and wide enough for the main lower deck.
First view inside the box ahhh, i'm looking forward to this!!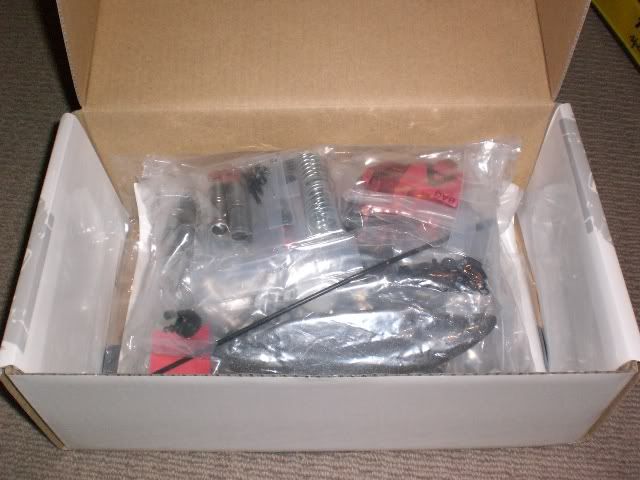 These are the main contents of the kit.
Manual/parts list etc
Main/Lower Chassis Deck
Main bag, including all individual bags of parts
I like the fact everything is organised into their own little bags, makes the build a WHOLE lot smoother!
The manual is quite well laid out i thought.  Keeps it simple, i mean, it starts from the start, and finishes at the finish, not like alot of manuals that come out in RC equipment that makes little to no sense, and has been written by someone that can barely speak english, let alone proof read!  I like that it starts with the rc gear you will need, along with pictures of the individual items. If a novice were to buy it it would be very clear as to what they need to do, just as an instruction manual should be.
It's also nice that they let you know all the tools and parts you will need for the build and what tools and parts they give you, this is pretty much a standard, but it's still nice. Although now i'm actually looking through the manual and there are a few of the plastic parts not listed on the side of the manual's page where they list parts needed for certain steps, this could have been confusing if i was following it, i'd have been thinking i was missing parts! But i guess it's pretty obvious anyway.
Its also extremely easy to locate part numbers in both the front (in the Parts Reference section) and also in the back of the manual in the exploded diagrams.
Main bag, opened and laid out along side the Main Deck – You can see it's gonna be an easy to follow build.
Top side of Main/Lower Chassis Deck – I just wish they would of pre-glue the edges of all the Graphite pieces BEFORE they leave the factory.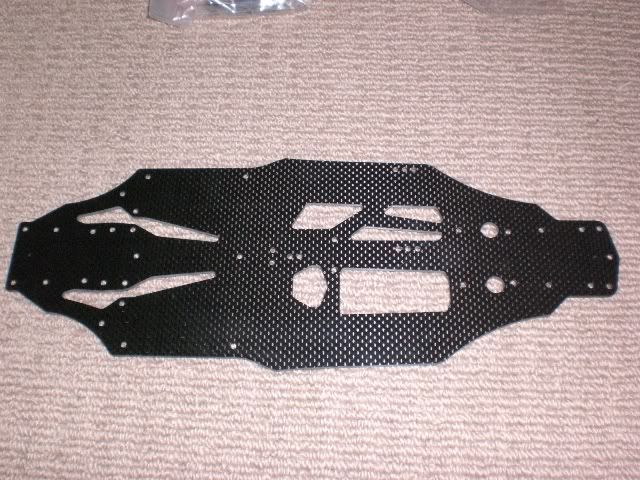 Bottom side of Main/Lower Chassis Deck
Tool bag and contents, I love the x-wrench's with holes for the turnbuckle ball cups – these make life so easy, and take all the pain out of building turnbuckles.  They give you a shizload of grease, i wouldn't have even needed to use half of it, if i had. I also like the fact they include an allen key with the ball point on it so you can get it into the motor screws later on at an angle (or any other 2mm head hex screws for that matter) for easy adjusment and mounting… although the 'L' end needs to be a little longer for better leverage as i needed to use my pliers to grab the allen key to tighten anything up.  The angled turnbuckle wrench was easy to use too, and has a nice angle on the end that is helpful. Double sided tape is a standard, but i wonder when or if velcro will ever be included in kits, i've always liked to have the ease to chop and change in an instant =)
There is a bag that contains all the plastic parts trees and other graphite/plastic parts, and this is what you get when you open it up, again it's nice that everything is organised, and that you will use every item in each bag as they are opened, so you are not left with loose parts that you have to go back to later (although some of the parts trees are an exception).
Here is Bag A and it's contents.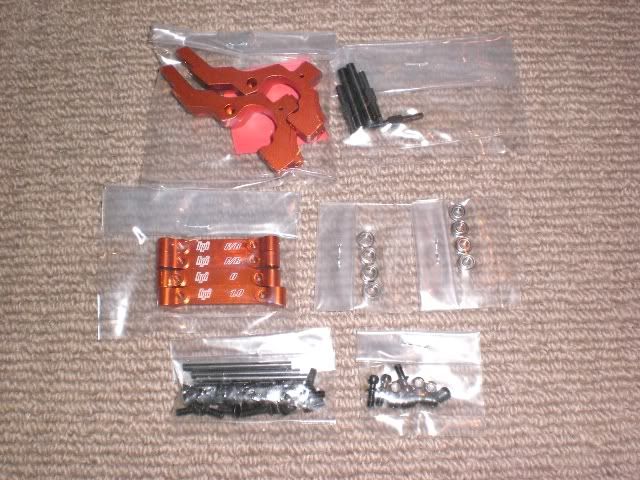 They have you start up the front, so here we go, installed here is the following.
Front R/L arms
Front pivot blocks/hinge pins
The steering turnbuckles have been built
The steering posts have been placed
I would like to know weather or not they are bringing out different degree pivot blocks for the front and rear, there is nothing in the manual to suggest it, but damn sure hope they're coming, i suppose maybe i should try and fit the blocks from the yokomo for the mean time.
Here you can see now i have the steering rack assembly together, and the turnbuckles popped on : Note – 4x bearings are supplied for the steering posts.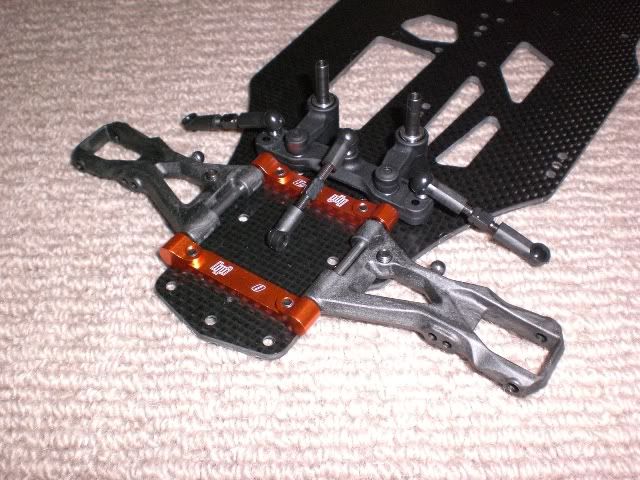 Front bulks installed.
This is the rear end now. Pivot blocks and arms installed.
Rear bulks in place along with posts to allow adjustment of chassis rigidity. These are the two posts that can be screwed in either of 2 ways; you can install them as i have (paralell to the [b]length[/b] of the chassis) for a smoother, less twitchy ride – and they then can also be rotated 90 degrees towards the outside of the chassis (paralell to the [b]width[/b] of the chassis) and installed there to increase chassis rigidity, resulting in a snappier ride.
On to Bag B we go – everyones favourite – DIFFS!!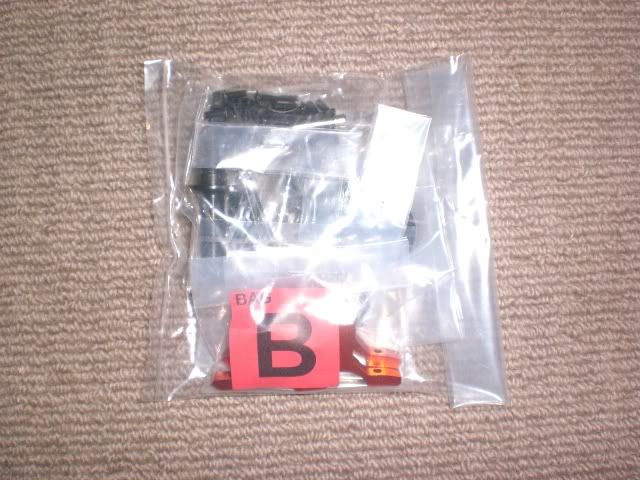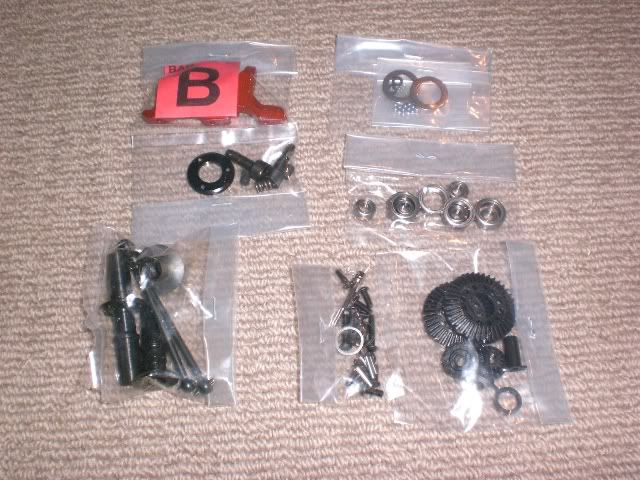 I must say, i wasn't expecting to get steel diffs, I was fairly shocked to be honest, but i think they should have given the option of 2x spools and 2x ball diffs. What if certain drivers dont want the locked rear?  I also heard somewhere there is a front one-way available, and some upper deck, but no confirmation on any of it.
On the left is the ball diff, and the spool on the right.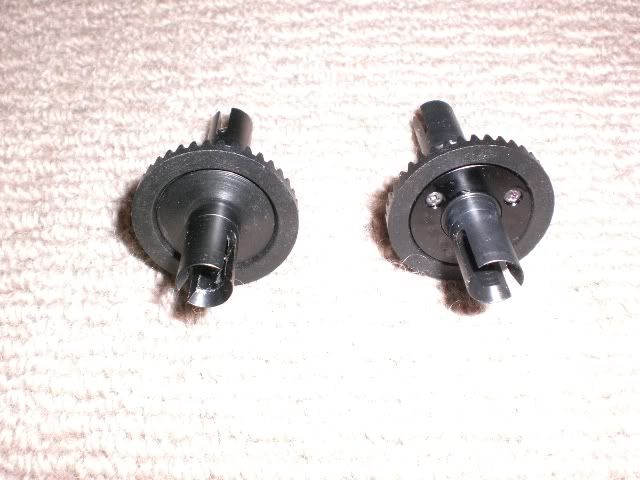 This is inside the gearbox case, with the pinion gear and centre input shaft mounted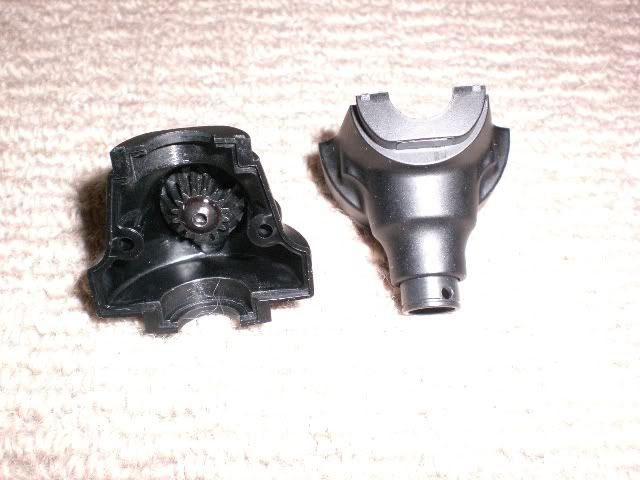 Here are both diffs assembled, I have used Gorilla Snawt grease instead of the grease they supplied because it has teflon in it, and sticks very well to the gears.
Centre driveshafts attached.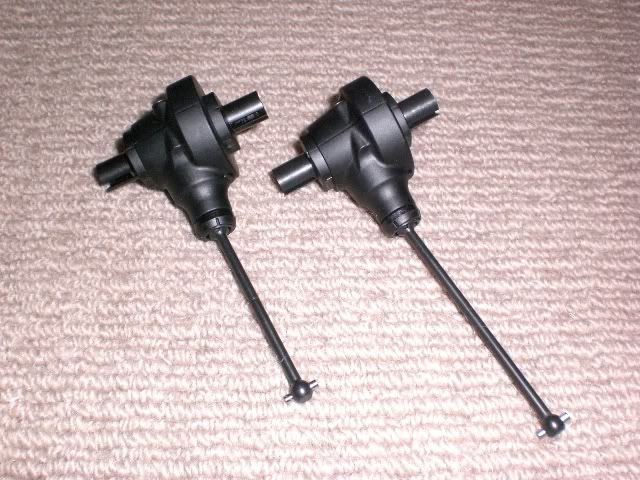 Rear diff installed, and upper section of bulks in place, locking the diff in.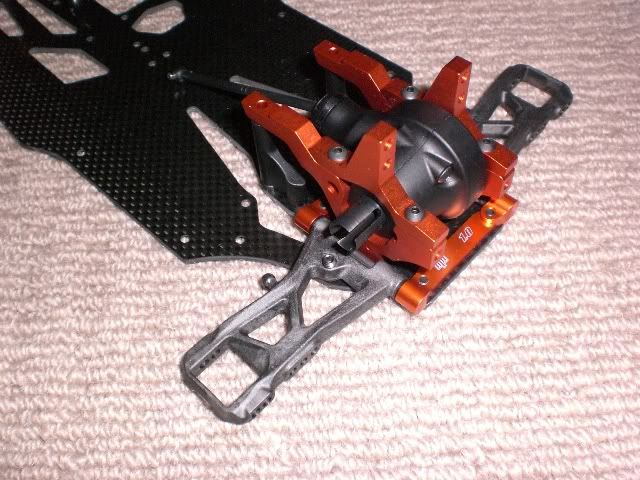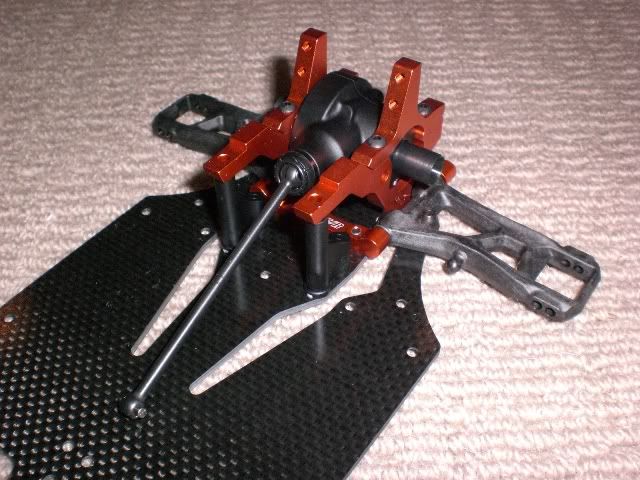 Same thing up front.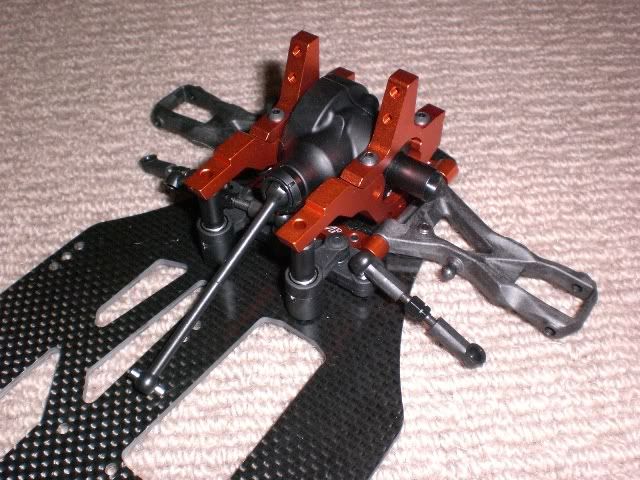 This is just a side shot to show the layout so far, note how the diffs are angled upwards so the rear shaft can clear the battery…  Also note the length of the centre driveshafts!!  the shorter one for the front, and longer in the rear.,
Onto bag C we trundle.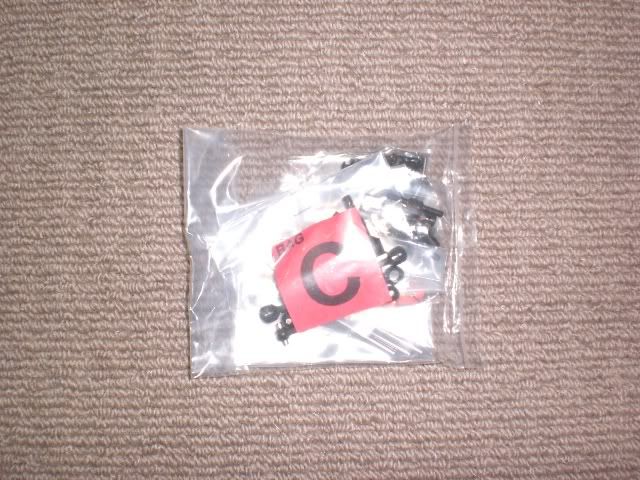 Back up front now, and here i have the Shock tower, and turnbuckles installed.  They also include parts to hold the sway bays in place, but don't include sway bars!!!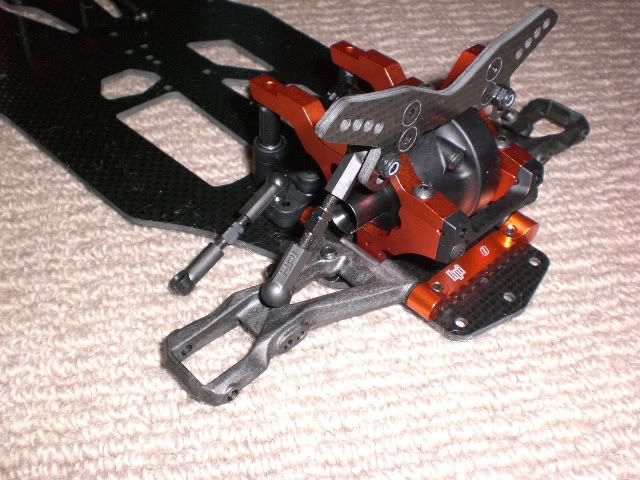 Still up the front, we now have the drive shafts/knuckles/c-hubs/hexes and the shock mounting screws in position.
I like the idea they have mounting the steering knuckles tho. On my yokomo, they have king pins, and they tend to be the one downfall of that kit, as they seem to disappear alot unless you have loctited them. But i like how they use a bushing and a standard screw instead of a kingpin with a few spacers between – makes life easier to build it.
I will say tho, that i am NOT impressed with the C-Clips included for the hub hinge pins, they dont even include spares!!  I got plenty of spare balls for the diff, so why no C-Clips?  They're the most common piece of hardware to go missing!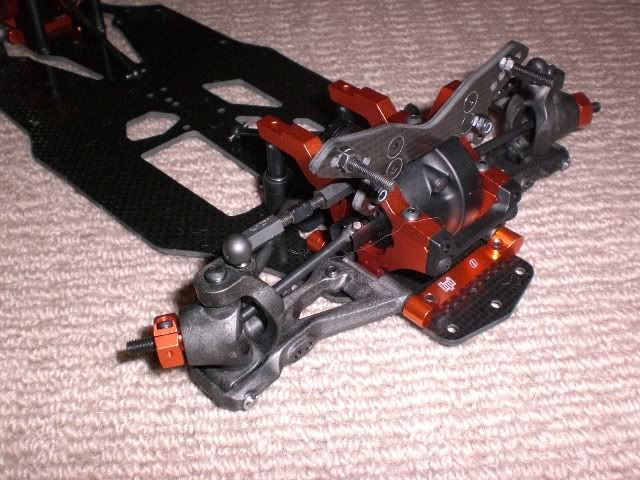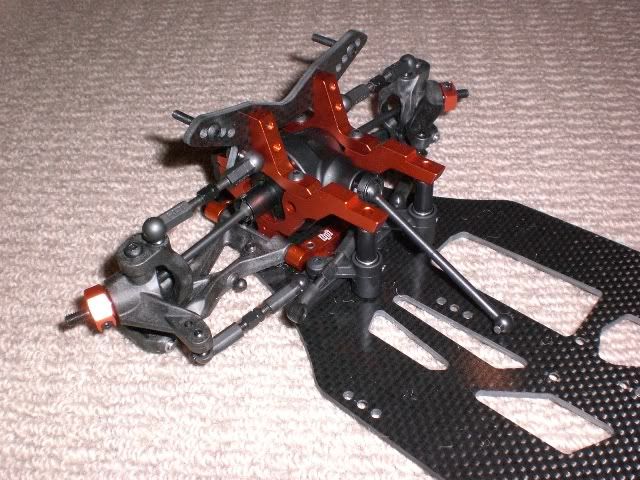 Same thing, but down in the rear of the car now.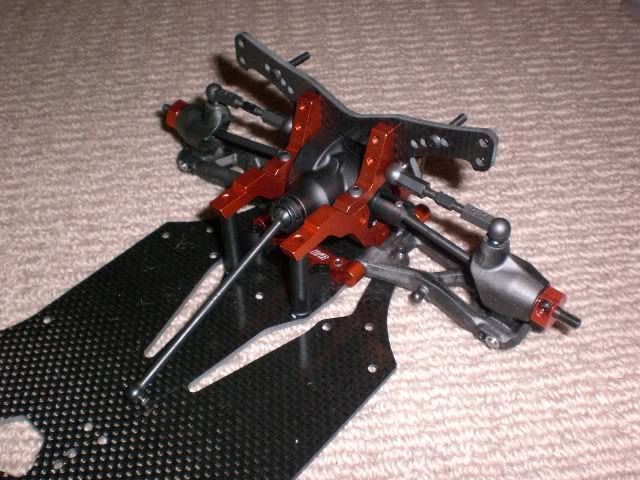 I'll add a tip here that Geoff (aka 'Zippa') passed on…
Get yourself some fuel tubing, and cut 14x slices of fuel tubing into ~1-2mm lengths – slide the 'rings' you just cut ovber your turnbuckle ball studs, and then pop the turnbuckle over that – whallah!!  No more slop!!  Thank Geoff!
He also used heatshrink over his dogbones to stop wearing out the output cups – although i dont have any heatshrink with walls thin enough to make them fit. I actually have almost zero slop in the dogbones, so i may have to wait untill they wear a bit before i can do this mod. I am also looking into something like "Plasti-Dip" or some other form of rubber electronics insulator in the form of a "paste" that i can use to give the dogbone a bit of a 'rubber coating' if you will.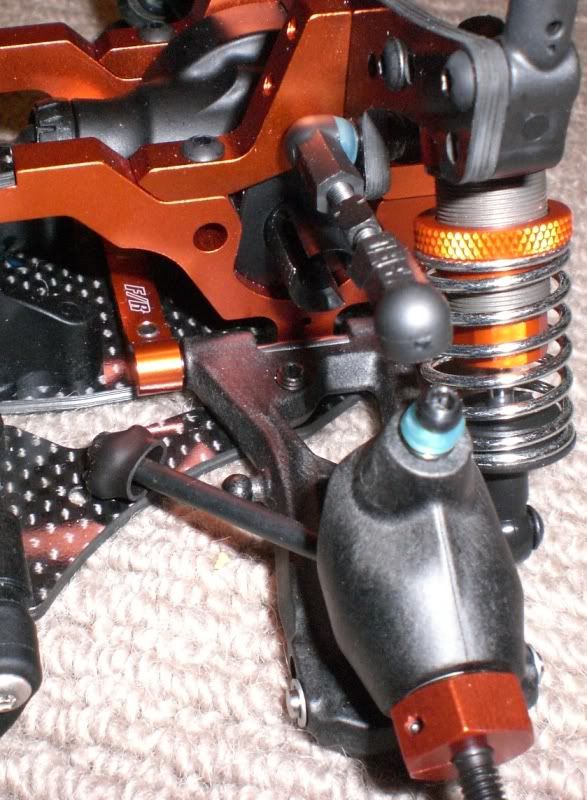 General view of the car so far.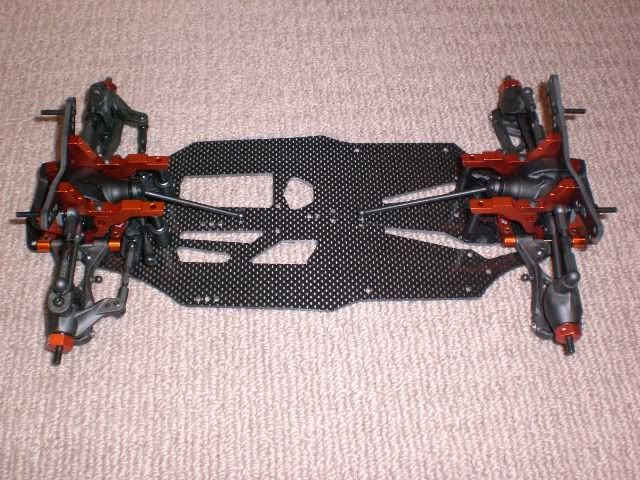 Now to install the battery hold-down.
Bag D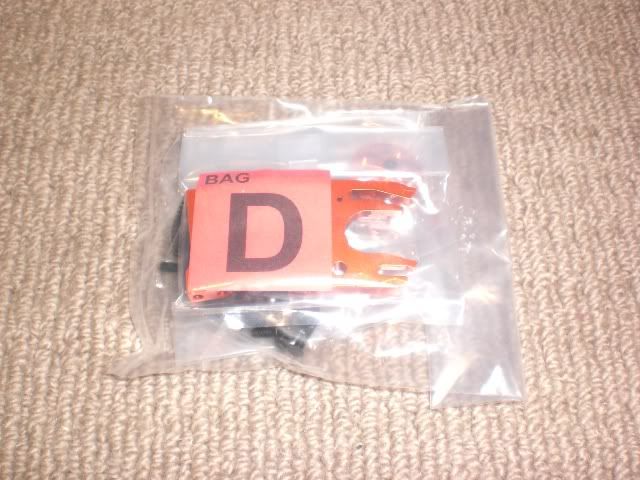 The Motor/Spur gear mount and antenna mount, are now installed. I had problem fitting my aerial tube into the aerial mount, and had to drill it out slightly to make it fit, and wasn't impressed that i had to do it, it should have been right the first time!
Here we have the spur gear assembly together.
When you install this shaft, the shorter end of the centre shaft (the side as seen in the 1st photo) points towards to front of the vehicle.  The pictures in the manual show this, just not very well, but it's fairly straight forward to figure out anyway…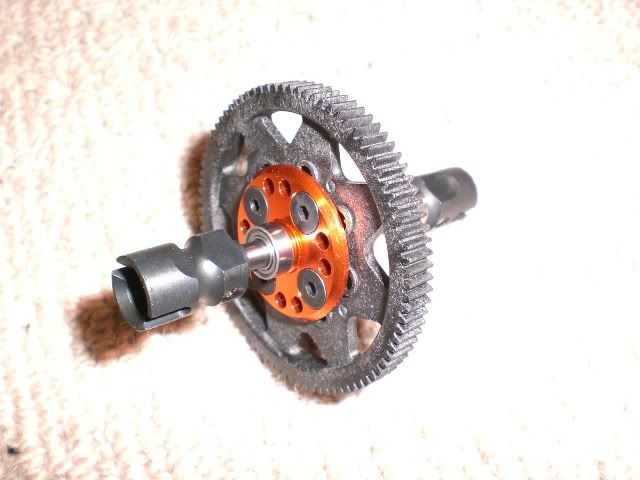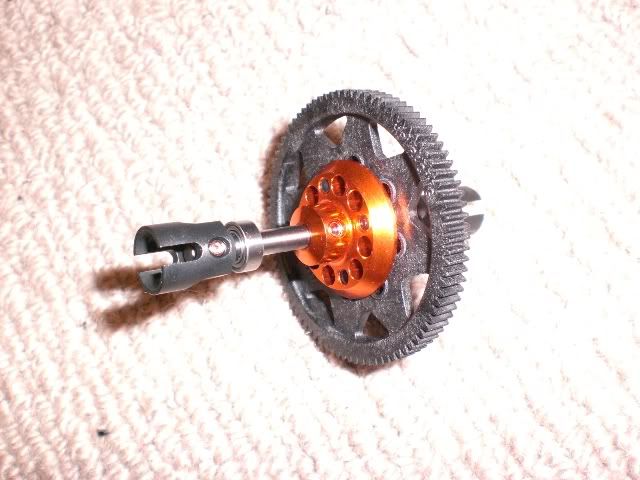 Spur gear assembly mounted and top chassis deck installed. Don't forget to place the centre dogbones in the drive cups!!  You can see the Gorilla Snawt i used instead of the grease they supply, in the dogbone/cup joint in the pics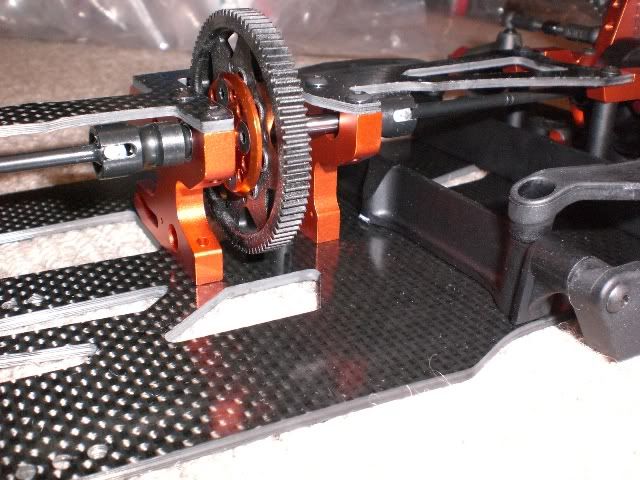 Bag F – we're getting close now.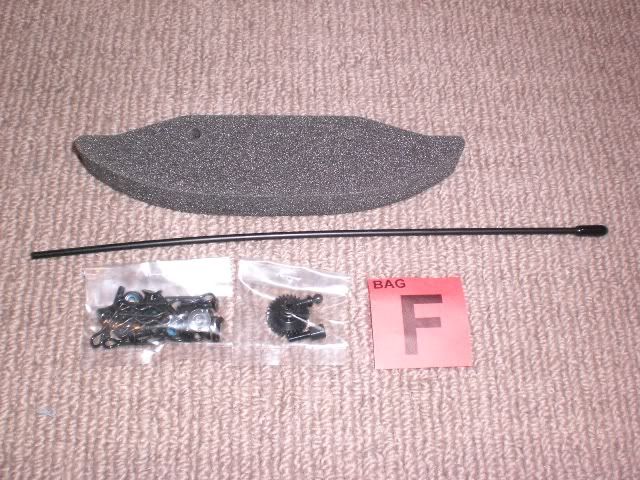 Front bumper and body posts mounted up.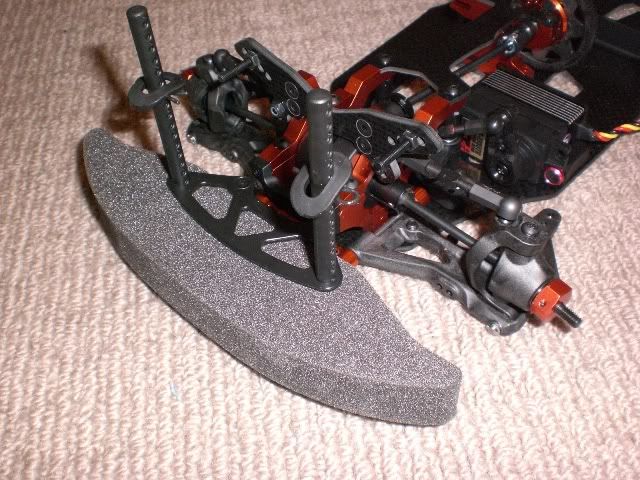 Here i have installed the servo. I have a few standard servos laying around, but i figure that since i have this HS-7955TG sitting round doing nothing, i thought i might use that, mega mega mega overkill i know, but is quicker than standard!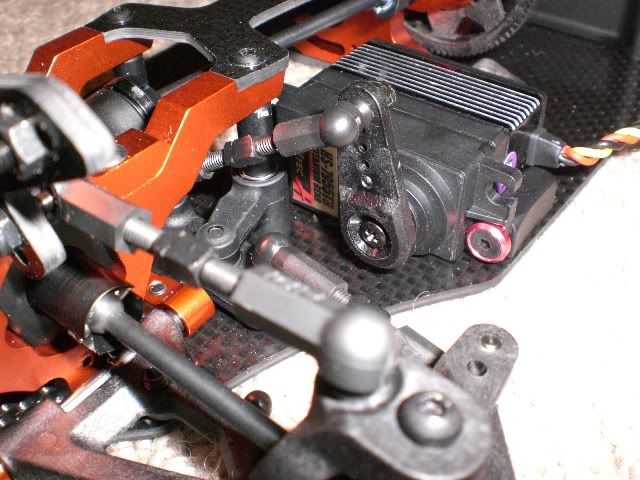 So this is where we're at.
We have pretty much everything installed now except for the RX/ESC/Motor/Shocks/Wheels & Body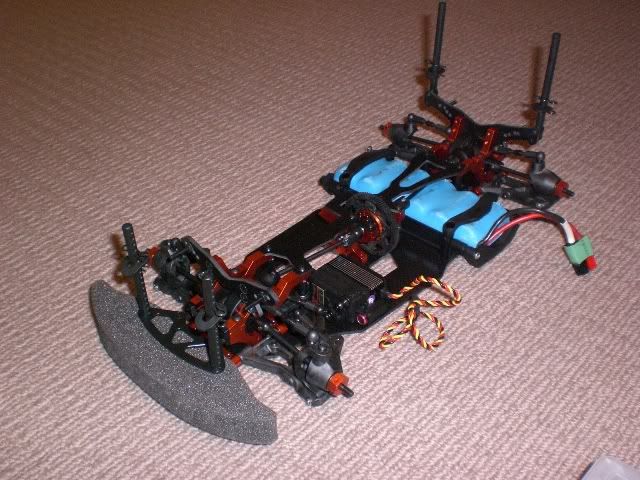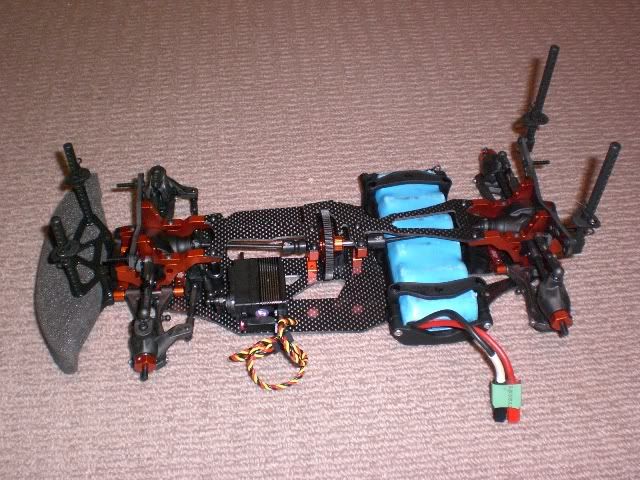 Well, this is the last bag to open!  Bag E – The suspension.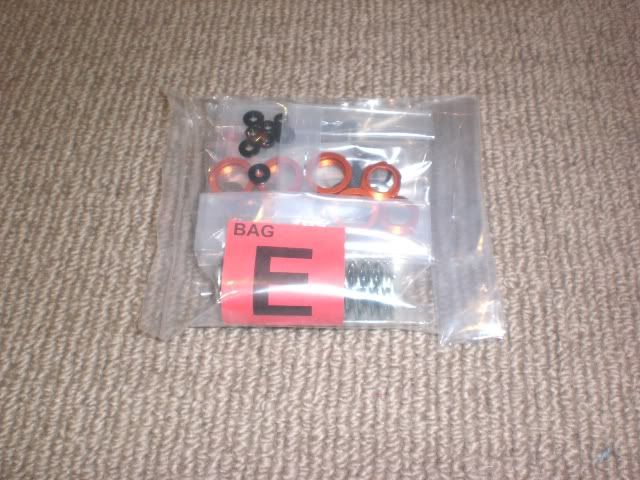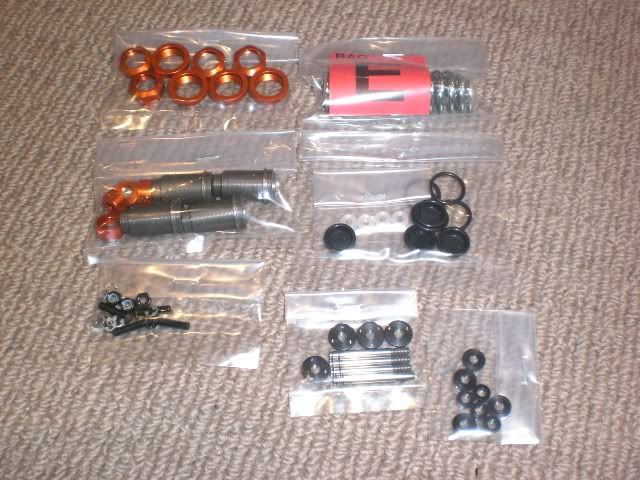 Usually i will drill out the pistons in all the shocks i get, and will use a heavier weight oil if necessary. The shock piston on the left here is the one i have drilled out.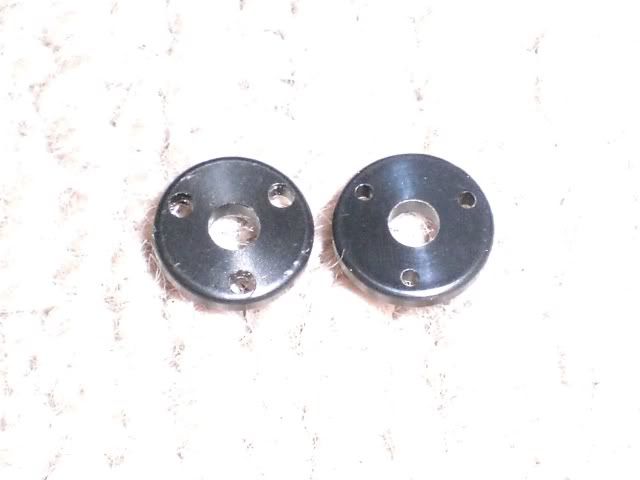 Unfortunately, the first piston i drilled out i messed up pretty good haha.  Have some on order so hopefully they'll be in quickly so i can match my shocks up!
I was holding the piston with my fingers (1st mistake) and was pretty bent (2nd mistake) and not really paying attention (3rd mistake) and as i went to drill the first hole – it slipped out of my hand, and i was drilling too fast (4th mistake) and i kinda drilled a new hole instead of making a larger one (5th mistake)!
Don't have any pictures, didn't really wanna show off my dodgey work! But here's an "exploded" view of the shock. I figure it's pretty self explanatory, so no words needed here.
And here is the shock fully built and complete, I used 25 wt oil – slightly higher than the 20wt they recommend. But i like my shocks setup to be nice and smooth/soft, hence me drilling out the pistons.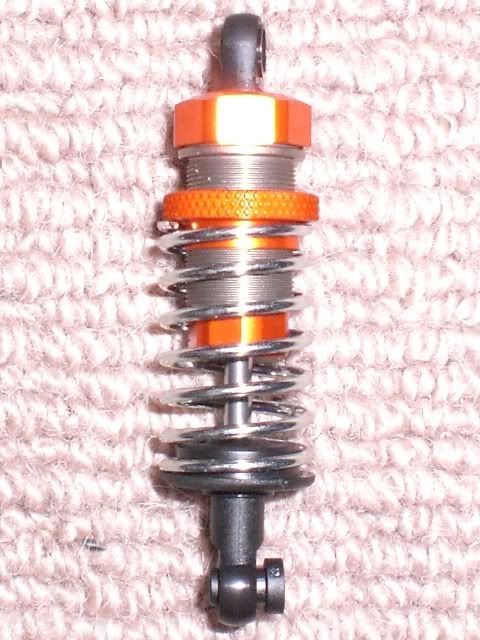 And installed (Rear shocks).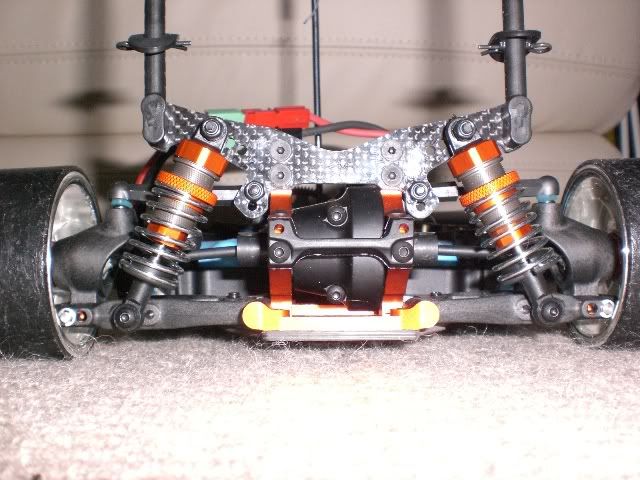 Here she is – RTR (ready to roll) minus the battery pack.
I have installed the Yokomo shocks up front for the mean time until i get my new pistons, I have a DX3.0, so have the SR3000 RX and am running a Mamba Max coupled to a Feigao 380C 7t (~5800kv)  damn this motor is light!  In my hands, it feels almost ½ the weight of the Lehner Basic XL5000 i have!!  Although i do want to move up to a higher wind, and keep the same series of motor. I'll see how this goes, and if it needs more weight up front, I'll just run the XL5000. Otherwise, I'll grab me a new 380C – maybe a 9-11t or something.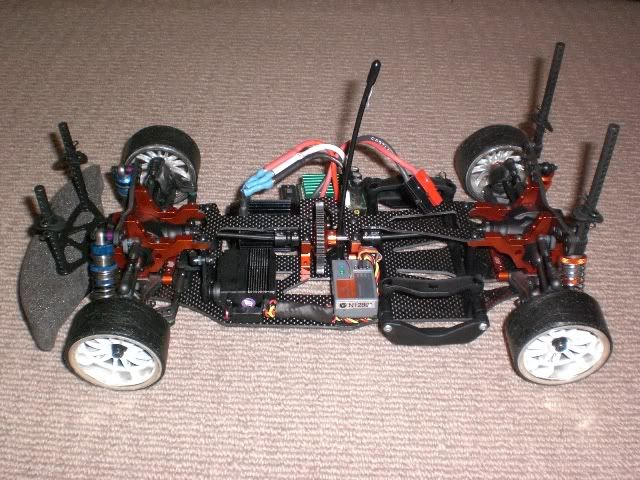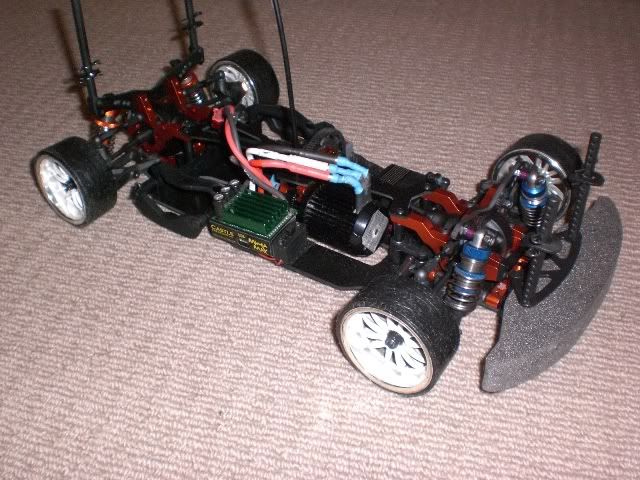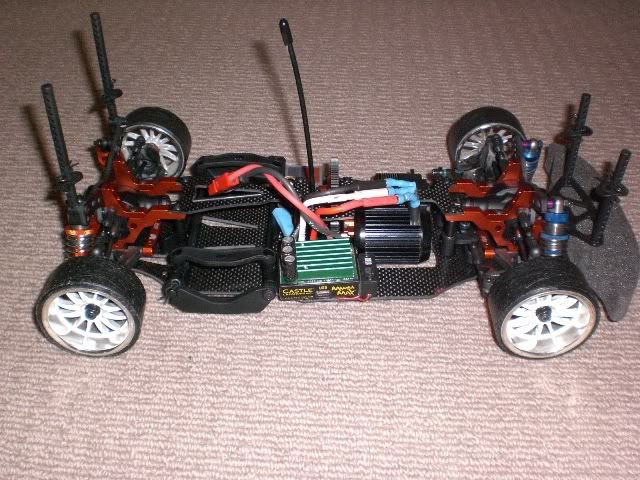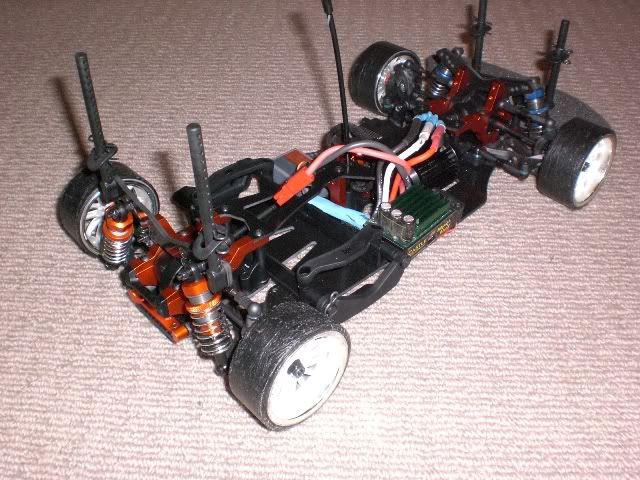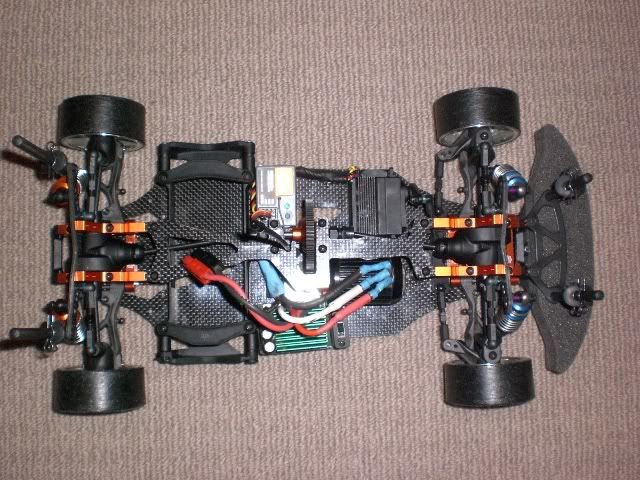 I figured since i have so many pics already – why not throw in a few more eh? I got some side by side shots of the pro-D next to the Yokomo for no good reason.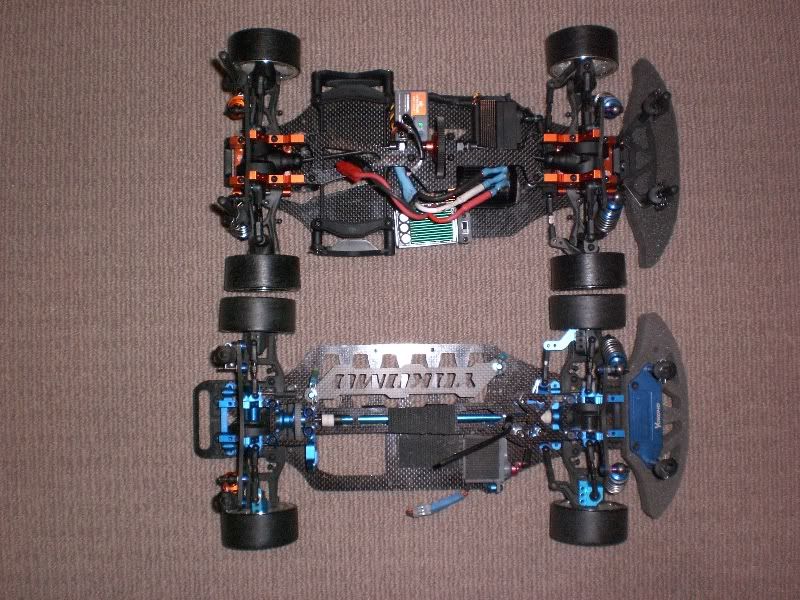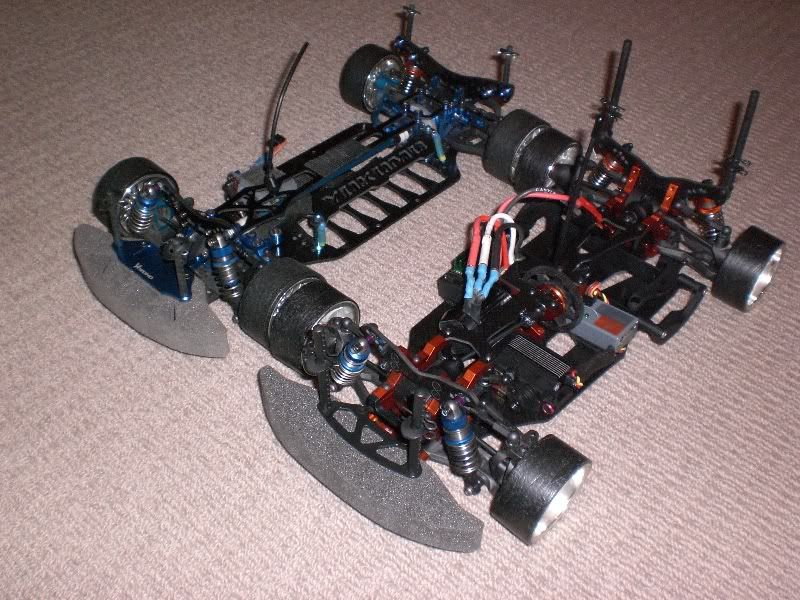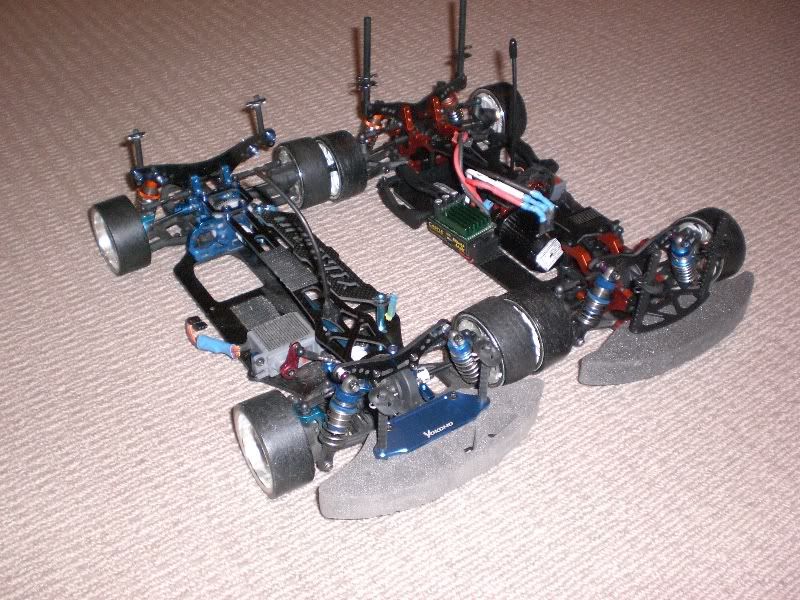 Hope you enjoyed this build up, and I hope someone gets some use out of it, cause it took me ages to do – probably took me longer sitting here on the computer typing and organising it all than it did for me to build the RC. Anyways I know i went overkill with the pics and all, but figured it's nice to take you all on in the build, this way, you guys can get an idea of the car and all that, and if you ever end up with one (or anyone else does) there's a build thread here for the car if anyone needs help or reference or anything at all.
Any comments questions etc, more than happy to answer =)
Thanks guys!!